The Young Ones is een groep jongeren in de leeftijd van 11 t/m 21 jaar. Zij leven met hiv en worden of werden behandeld in een kinder-hiv-behandelcentrum. Er worden jaarlijks activiteiten georganiseerd met lotgenotencontact als hoofddoel. De activiteiten (bv. schaatsen, weekendkamp) worden gekoppeld aan workshops, informatie en educatie.
Ontmoeting in een veilige omgeving
In 2017 zijn we met 20 jongeren een weekend weg geweest. Zaterdag is er door een volwassene die leeft met hiv een workshop gegeven over zijn leven met hiv, we hebben buiten gesport, we hebben het spel Secztalk! met de jongeren gespeeld en in de avond hadden we een Halloween feest.
Zondag hadden we bezoek van 4 oud-leden van de Young Ones. We hebben samen met een delegatie van Jong Positief gebrainstormd over een activiteit op het Wereld Aids Congres van 2018 in Amsterdam. Twee van de jongeren waren voor het eerst mee.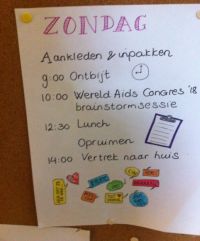 Twee jongeren waren lost-to-follow-up in de volwassenenzorg; we hebben ze hopelijk kunnen motiveren om zich weer te melden bij hun behandelaar. Het team van begeleiders bestond uit kinder-hiv-consulenten, een oud Young One, een stagiaire en een Young Ones vrijwilliger.
"Ik vind de weekendjes belangrijk, omdat het me laat zien dat ik niet de enige ben met hiv en er open over kan praten. De activiteiten brengen ons ook dichter bij elkaar en ik heb ook geleerd dat ik gewoon kan doen wat iedereen kan. Ik kijk het hele jaar er naar uit om het volgende weekend mee te maken!" – jongen, 17 jaar

"Ik vond het heel erg leuk om andere jongeren met hiv te ontmoeten. Ik weet zelf nog maar kort dat ik hiv heb. Het feest op zaterdagavond vond ik het leukst." – meisje, 13 jaar