Positively Dutch is a partnership created by hello gorgeous, Atlas2018 and the Hiv Vereniging (Dutch Association of people living with HIV). During the World Aids Conference of 23 - 27 July 2018 we joined forces.
Global Village
In the Global Village, a kind of big meetingpoint, stood the stand for Positively Dutch. A program has been run throughout the week with informative workshops and presentations. A meeting and exchange place. The Global Village is always free for everyone, not just for the conference participants.
Opening speech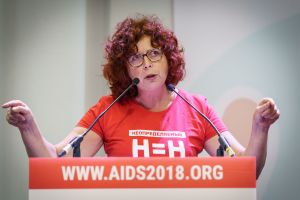 During the opening on Sunday evening 22 July 2018, Reina Foppen, Community Network staff member of the Dutch Association of people living with HIV, gave an energetic speech in which she said that people with HIV should always be involved in conversations about HIV and living with HIV. In addition, joining forces is also of great importance: 'Be inclusive and stay curious! We need to work together. We need to build bridges and cross them in order to walk towards ZERO together.
Many active volunteers
The Dutch Association of people living with HIV has continuously run a digital presentation and board members and volunteers were present to meet people and answer questions. At the stand Atlas2018 promoted her exhibition in the Beurs van Berlage and gave a preview on the spot. hello gorgeous (Dutch only) also had a place where, among other things, she draw attention to her special edition and the Stigma Experience they developed.
Together, we showed what it is like to live with HIV in the Netherlands – and what our groups are doing to make living with HIV in the Netherlands as pleasant as possible and to fight the stigma. At 'latest news' you can read various impressions of people who were present at the stand in the Global Village.