For me, this International AIDS Conference started with the opening of the "AIDS in Amsterdam" exhibition in which Roel Coutinho and Dolly Bellefleur took us back in time. All the stigma surrounding HIV which we still grapple with today and in the future has its origins in this beginning period. It is almost unreal to anyone who did not witness this firsthand, but the scars remain among those like me who were there. I highly recommend this exhibition, in which the recurring theme of HIV that runs through our lives also unifies the whole exhibition.
Positively Dutch
After the exhibition, I headed over to the Global Village to see Positively Dutch. Designer Bas Kosters made sure that this stand would leave an unmistakable impression on the many attendees of the conference. The week turned out to be a whirlwind of stories, meetings and experiences, alternating between good news about living with HIV and often disheartening circumstances brought about by a lack of political will-power in other countries.
International Stories
The protest march on Monday afternoon, in which I walked with the Long-Term Survivors (We Are Still Here) turned into an even more powerful statement because of the heat. In the Global Village, representatives of many countries introduced themselves on the main stage. There was an inexhaustible outpouring of positivity and creativity as well as many protests by the sex workers who made a deep impression because they will not be allowed into the United States for the next conference, which will be in San Francisco.
Save Sex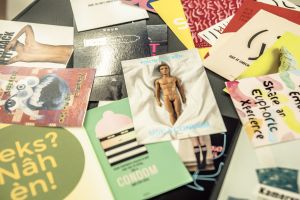 In the Positively Dutch stand, there were many workshops and presentations from all different areas of the Dutch Association of People Living with HIV. This included the Haaglanden regional chapter, with its presentation about the project in The Hague called "Sex? So What?! I Save Sex." The core message: now that people living with HIV can no longer pass on the virus thanks to medication, we will no longer write "safe sex" with an "f" but instead will write it with a "v." "Save sex" instead of "safe sex," in which we must always keep taking the initiative to share our knowledge. A bottom-up campaign is better than top-down. Spreading our message from within the HIV community itself is better than following a campaign that is created and handed down to us from above. My point of view is that small initiatives can sometimes have an enormous impact.
The HIV community is present
On Wednesday, we received a visit at the Global Village from the groups from The Hague and Rotterdam organized by Stichting Mara. It was a great day for everyone. After visiting the Global Village, they all went for an Italian dinner together and then moved on to the DeLaMar Theater to attend The Power of Love. Unfortunately, we could not stay until the end, but as a consolation, there was a goodie bag waiting for everyone in the bus. I look back on an amazing week in which I learned and shared a lot and saw that we have an HIV community that cannot be ignored!
Edwin van Dam
Coordinator for the regional chapter in the Haaglanden, Leiden and surrounding area