For me personally, the conference actually already started on Sunday, 22 July with the most "positive photo" on Dam Square, with many members of the Dutch HIV Community and Dr. Lydia Mugherera from Uganda in attendance. Immediately after that was the official opening of the deeply moving exhibition by Atlas2018 in the Beurs van Berlage.
Every time I see how bad the conditions are for people in other parts of the world, it makes me very humble and thankful to live in the Netherlands and to have access to all the medical healthcare, even though we often criticize it. The images shown by Atlas2018 are enough to give you goosebumps. The exhibition is still on display until 2 August, so if you get a chance, you should definitely see it. It's more than worth it.
The Global Village
The next day started with the real work for a few days on the Positively Dutch stand in the Global Village in the RAI, where the Dutch Association of People Living with HIV, hello gorgeous (and the Stigma Experience) and Atlas2018 jointly operated the stand with a team of enthusiastic and highly motivated volunteers.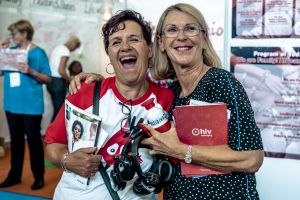 Following the words of Lydia Mugherera (I WILL SPEAK! I WILL SPEAK), I spoke and spoke. And that was also the goal of the Dutch Association of People Living with HIV: breaking barriers and building bridges. Starting a conversation and explaining how we are trying to reach, empower and unite our community with our diverse groups and regional chapters, activities and workshops throughout the Netherlands. And never forgetting to make clear that U=U is the most powerful tool we have at our disposal right now to break through the stigma, and what this means for the (mental) health of people living with HIV.
We tried to share our knowledge with representatives from countries where things are nowhere nearly as organized as they are here in the Netherlands. And to learn from countries where things are in good shape.
It is incredible to see where all those thousands of attendees to the congress come from. There are people from all corners of the world here. Just to name a few examples, I spoke with a female doctor from Saudi Arabia, where treatment and medications are available. She started an NGO for women, but the stigma in her country is much greater than it is here. So, she really wanted to know everything about our approach and even wanted to send people to learn from our workshops.
Other examples: a doctor from the Kingdom of Bhutan, a small country between China and India, right in the middle of the Himalayas, representatives from Haiti, Tajikistan, Ghana, France, Zimbabwe, Kenya, Nigeria, the USA, the UK, Germany, Japan... Too many to name them all. And then there was that doctor from France, who worked as a volunteer for AIDS2018 just to be able to take part in the conference and who spontaneously gave me a hug for all the information. Heart-warming. We have the opportunity to tell all these people about how we operate and what we are achieving.
The other side is that you also hear stories from people from countries were as many as 66% of people living with HIV have no access to medication (like in Russia and other countries). Just imagine... We just kept giving information, giving information and giving information. We handed out tons of flyers, referred people to the English-language parts of our website and even to our Servicepunt, including a Dutch woman who spontaneously offered to become a volunteer. How amazing is that?! With all of this going on, I unfortunately missed the protest march, but I obviously got to see all the pictures.
The Positive Flame Tour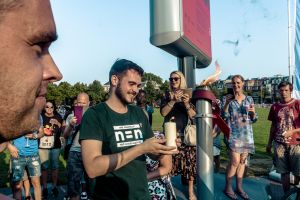 Then came the Positive Flame Tour which started at the HIV/AIDS Monument and ended at the DeLaMar Theater, passing by various Meet & Greet points including the Dutch Association of People Living with HIV on Museumplein. All those champions: men and women, young and old, handicapped or not, who carried the torch on this blistering hot day and who walked in this extremely long, exhausting tour deserve our deep, deep, deep respect!
The Power of Love
Once all the walkers, led by Francoise Barré-Sinoussi (the discovered of the virus) were inside and enthusiastically greeted on stage, the flame in the DeLaMar Theater was lit, marking the beginning of the most beautiful evening to have HIV. A beautiful and emotional evening, with good music, moving clips from documentaries about the early years of the epidemic and Princess Mabel of Orange who took over the baton from Fred and held a discussion with Francoise, Peter Staley (a pioneering activist) and Timothy Brown, the only person ever to have been cured of HIV. Sorry Fred, but Mabel did an excellent job! She can always fill in for you if you ever need. What an engaged and well-informed woman.
There are two things Mabel said that really stuck with me:
1. We have no time to stand still, we must not stand still, we must keep moving and moving and moving!
2. She repeated what Bishop Desmond Tutu once told here: "My child if you want to have a big change happen, you need a big wave of change. My child, a big wave is made of millions and millions of drops and you can be that one drop..." She pointed into the audience and continued: "and you and you and you… you all can be that drop to make that big wave of change possible!"
Symposium
Together with Reina and our staff member for Medical Affairs, Renee Finkenflügel, I attended a symposium with doctors, nurses and researchers. Renee will undoubtedly go into more detail in her blog posts about the medical side of things, as she will be doing for the entire conference. Reina also held a presentation here and made clear — more than clear — what kind of prejudices and stigmatization people living with HIV in the Netherlands still encounter in the medical world. I had the impression that her message was well received. In any case, Prof. Brinkman took it upon himself to discuss this further with his colleagues at the hospital where he works. During the break and afterwards, Reina, Renee and I spoke with various people to bring attention to women and their specific problems related to HIV and medication. We exchanged information and we'll be following up on this.
On Friday, there were well-deserved drinks for all the volunteers at the Beurs van Berlage.
Pop-up Expo
And for the cherry on top, I was at the pop-up expo on Dam Square on Saturday to provide information. What a perfect day for it too, considering it was the start of Pride. I gave information to so many young people visiting from abroad who had no idea about HIV. We drew attention to U=U among anyone who would listen. A nurse from the Vrije Universiteit Hospital even stopped by for a chat and told us he would like to become a volunteer for the Dutch Association of People Living with HIV. Meanwhile, we recommended the Atlas2018 exhibition in the Beurs van Berlage to even more people.
Boy, oh boy, what a week, what a week! I really pushed myself beyond the limit, but it was more than worth it. And I WILL SPEAK, I WILL SPEAK and will not stop. I also will be that ONE DROP out of millions to make that BIG WAVE OF CHANGE. I hope you all do too!
Hetty