On the last morning of a Global Village that is already starting to empty out, I was in somewhat of a hurry when I walked past the stand of Francophone North African countries and suddenly I see her sitting there! Fatimata Ball, my sister and ally from Mauritania! I blogged about her two years ago from Durban when we were there with a Dutch delegation to prepare for the conference in Amsterdam.
I met her and Fabienne, a French researcher and activist, also HIV-positive, at the GNP+ preconference. We kept meeting up that week in Durban.
Everything comes full circle when I wrap my arms around Fatimata, and suddenly I'm not in such a hurry any more. We exchange a warm embrace, talk about how things are going, what we've done this week and still plan to do. I had written to her previously to say that I would not go to the conference myself because we at the Dutch Association of People Living with HIV simply couldn't afford to spend another 800 euros on a ticket, and that other colleagues of mine could use the three tickets that the organizers had given us. So, she did not expect to see me here at all. Communication is an art form. In any case, after our reunion, we walked arm in arm to the Positively Dutch stand and I gave her a detailed explanation of what our organization is doing, based on a presentation I had created especially for this week.
Universal Language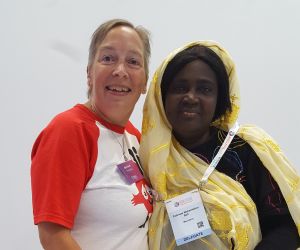 Fatimata is the only woman in Mauritania who is open about HIV. She is a nurse and basically she single-handedly does all the tasks that we do as an association. From education to peer counseling, from lobbying the president to appearing on TV. On Friday morning I was able to introduce her to our own Posidiva Alie, who was hosting the stand. It's time like these when I am happy with my extensive language skills that enable me to bridge the gap between a woman from North America and a woman from Wapenveld, neither of whom speak very good English, but immediately feel a click with each other. Sharing a warm embrace is a universal language.
We were spot on too, because that very moment Gerben Grimius was performing his song "A Good Talk" on the main stage and the English translation was projected on the screen. Gerben, who had also walked with the Positive Flame and with whom I was interviewed during The Power of Love is a professional musical artist and a good one at that! He sang beautifully, and fortunately Fatimata was able to follow the English translation on the screen very well. And I saw her nod over and over: "Yes, that's true. He's right!" After that, we went up to him of course and I facilitated another "good talk" by interpreting.
Making Friends with HIV
Fatimata could only confirm what Gerben sings: making friends with HIV is the path towards empowerment and inner strength. We've still got quite a few years to go together, HIV and I. She said, "Without HIV, I never would have been invited to come talk at the palace or appear on TV. I would just be a nurse, but now I am someone who meets with the president." It was also nice for her — and for me — to meet Gerben's parents. They support and encourage him, and Fatimata was very happy to hear that. She spoke about how important it is in her work to have the support of her own son. He's in his twenties now and he's very proud of his mother. He's even taken over the task of educating young people about HIV.
Souvenir from the Netherlands
A perfect ending to AIDS2018, the hottest week ever in Amsterdam. The courier picks up four more boxes of brochures (in Dutch), and I read one almost all the way through in the ten minutes I'm waiting outside. The handy booklet "Resilience and Visibility" was undoubtedly read by many visitors to the Global Village on their way home. I thought the booklet would make for good airplane reading. A perfect souvenir from a visit to the Netherlands, the newest country in the Sahel. As Fatimata said, "I was planning to bring a thick jacket but it's warmer here than back home!"
After-Party at the Atlast2018 Exhibition
We rounded up the week with drinks and snacks at the Beurs van Berlage with the volunteers from Positively Dutch, hello gorgeous, Atlas2018 and the Dutch Association of People Living with HIV. We had a great time together and took the opportunity to see this moving exhibition too. The incredibly beautiful design by the Silvestri's provides a perfect platform for the striking photos, videos and stories of people living with HIV around the world. It's still on display in the Beurs van Berlage until 2 August and admission is free, so it's definitely worth a visit. Don't miss it! And take a ride on the new North-South metro line while you're at it.
Reina Foppen
Community Network staff member